Articles in News and Events
News items of interest to the Cornwall Karate Club.
Class Started for 2014/15 Winter Session
Posted on January 7th, 2015 by Stephen DeGrace
Classes have started for the 2014/2015 karate year winter session as of Wednesday, Jan. 7. New students are welcome.
Class Canceled Wed. Nov. 26 Due to Weather
Posted on November 26th, 2014 by Stephen DeGrace
Due to an impending snow storm, class is canceled this evening. See you Friday!
PEI Tsuruoka Interclub Tournament Nov. 21
Posted on November 4th, 2014 by Stephen DeGrace
There will be a PEI Tsuruoka Interclub Tournament on Friday, Nov. 21 at the Cornwall dojo (map). This tournament will be kata only. The tournament starts at 6:30 pm, but we ask competitors to be early so that we are able to start on time.
No Class on Halloween
Posted on October 21st, 2014 by Stephen DeGrace
There will be no class on Friday, Oct. 31, due to Halloween. Have a safe and fun evening trick-or-treating, everyone!
Wing Au Clinic Thank-Yous
Posted on October 19th, 2014 by Stephen DeGrace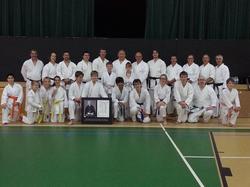 O'Sensei Tsuruoka
Posted on October 10th, 2014 by Stephen DeGrace
It is with the deepest sadness that we learned of the news today that O'Sensei Masami Tsuruoka, the father of karate in Canada and head of the Tsuruoka Karate Organization, passed away on Friday, October 10, 2014 at the age of 85. We wish to express our sincere and hearfelt sympathies and condolences to the Tsuruoka family. More information will be available at the Tsuruoka Karate Organization web site, including memorial service arrangements.
Wing Au Clinic Oct. 18-19
Posted on September 28th, 2014 by Stephen DeGrace
We are proud to announce that Sempai Wing Au (8th degree black belt) from Paradise, Newfoundland will be on Prince Edward Island to give a karate clinic on Saturday, Oct. 18 and Sunday, Oct. 19. The cost is $20/participant. The schedule is as follows:
Class Times for 2014/2015 Announced
Posted on August 28th, 2014 by Stephen DeGrace
We would like to thank all the students who participated in our summer activities, the summer classes in Stratford and the summer camp in Kingston. Good times were had!
No Summer Class Sept. 3
Posted on August 28th, 2014 by Stephen DeGrace
There will be no summer class on Sept. 3, the scheduled last day of summer classes. Regular classes resume on Sept. 10.
Summer 2014 Activities
Posted on June 24th, 2014 by Stephen DeGrace
Regular classes for the 2013/2014 karate year are now over. We want to thank all our students and instructors for a wonderful year, and look forward to seeing you back in September.