We are the Cornwall Karate Club in Prince Edward Island, Canada. We practice Tsuruoka Karate-Do, a style similar to Shotokan based on the teachings of O-Sensei Masami Tsuruoka (10th Dan), the father of Canadian karate. Please also check out our sister club in Stratford, the Island Karate Club.
COVID-19 Update - Spring 2020 Session Canceled
Posted in News and Events on March 28th, 2020 by Stephen DeGrace
There has been a further update from the Province that schools will remain closed until May 11. We have a longer path ahead to stop the spread of COVID-19, and we all must do our part. Therefore, Cornwall Karate Club is canceling the remainder of the Spring 2020 karate session.
We will continue to stay engaged with the community, both within the club itself and in cooporation with other dojos on the Island and across the country as the opportunity arises, with the goal of maintaining training and helping everybody get through this challenging time. Please follow up on Facebook:
https://www.facebook.com/cornwallkarate/
From there you can click through and join our Facebook Group, where everyone can post activities and interact.
Everyone stay strong and stay safe, from the BOD and Instructors of the Cornwall Karate Club!
Latest Gallery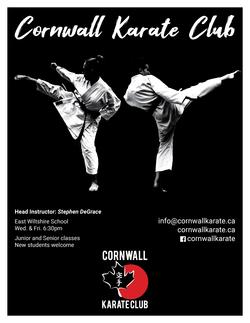 December 24th, 2018 by Stephen DeGrace
We are proud to unveil our new logo and poster created by graphic designer Jake Mutch of the Island Karate Club!