We are the Cornwall Karate Club in Prince Edward Island, Canada. We practice Tsuruoka Karate-Do, a style similar to Shotokan based on the teachings of O-Sensei Masami Tsuruoka (10th Dan), the father of Canadian karate. Please also check out our sister club in Stratford, the Island Karate Club.
Class Cancellations: Class is automatically canceled in any of the following circumstances:
The Public Schools Branch has closed schools due to inclement weather, even if the weather improves in the evening.
There is a Professional Development day.
There is a school event in the evening, in order to comply with covid restrictions.
See this post for the complete schedule of planned cancelations.
The next scheduled class cancelation is Friday, Apr. 16 (School Goals Day).
Resumption of Karate Wed. Mar 24
Posted in News and Events on March 24th, 2021 by Stephen DeGrace
We are pleased to announce that we are back in training on our normal schedule under the currently effective Operational Plan starting Wednesday, March 24. Class begins 7 pm as usual, please arrive between 6:45 and 7:00.
New Students:
Unfortunately, we are unable to take any new students in our junior class for the 2020/2021 karate year. We are, however, able to take new senior class students, contact us for details.
Latest Gallery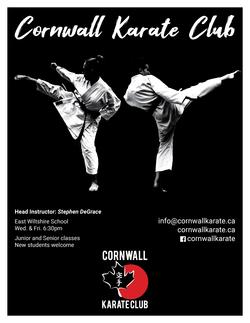 December 24th, 2018 by Stephen DeGrace
We are proud to unveil our new logo and poster created by graphic designer Jake Mutch of the Island Karate Club!