We are the Cornwall Karate Club in Prince Edward Island, Canada. We practice Tsuruoka Karate-Do, a style similar to Shotokan based on the teachings of O-Sensei Masami Tsuruoka (10th Dan), the father of Canadian karate. Please also check out our sister club in Stratford, the Island Karate Club.
There is no class on Fri. Nov. 08 and Fri. Nov. 15 due to Professional Development days at the school.
PEI Shotokan Alliance Invitational Tournament Nov. 02
Posted in News and Events on October 27th, 2019 by Stephen DeGrace
The PEI Shotokan Alliance Invitational Tournament will be held at the Stratford Town Hall (234 Shakespeare Dr., Stratford) on Saturday, Nov. 02. Check in is from 09:00-09:30, with the tournament starting at 09:30. See the map below for the location, and click Read All if you don't see the attached tournament information.
Latest Gallery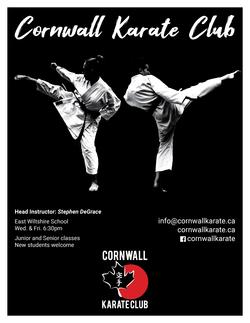 December 24th, 2018 by Stephen DeGrace
We are proud to unveil our new logo and poster created by graphic designer Jake Mutch of the Island Karate Club!