We are the Cornwall Karate Club in Prince Edward Island, Canada. We practice Tsuruoka Karate-Do, a style similar to Shotokan based on the teachings of O-Sensei Masami Tsuruoka (10th Dan), the father of Canadian karate. Please also check out our sister club in Stratford, the Island Karate Club.
Winter Weather/School Closure Policy:
Class is canceled any time the PEI Public Schools Branch closes school for the day, and whenever there is a PD day, regardless of the weather in the evening, because we will not have access to the school. When inclement weather develops in the evening, we will make a decision based on expected conditions and announce it on our web site and via our mailing list, Twitter and Facebook. When in doubt, consider conditions in your area, and play it safe!
Karate is cancelled Wednesday, February 12 due to closure of the Public Schools Branch due to inclement weather.
Sensei Oscar Leger Clinic, Feb. 29
Posted in News and Events on January 19th, 2020 by Stephen DeGrace
We are proud to announce that together with our sister dojo in Stratford, we will be hosting a clinic taught by Sensei Oscar Leger (8th degree black belt) from Moncton.
Update: The clinic will be held on Saturday, Feb. 29 at the North River Firehall (map below).
Classes will tentatively be from 10am-3pm with juniors in the morning and seniors throughout the day - more details to follow.
Latest Gallery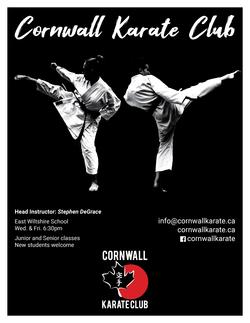 December 24th, 2018 by Stephen DeGrace
We are proud to unveil our new logo and poster created by graphic designer Jake Mutch of the Island Karate Club!