We are the Cornwall Karate Club in Prince Edward Island, Canada. We practice Tsuruoka Karate-Do, a style similar to Shotokan based on the teachings of O-Sensei Masami Tsuruoka (10th Dan), the father of Canadian karate. Please also check out our sister club in Stratford, the Island Karate Club.
Our COVID-19 Operational Plan is available for download.
Class is canceled any day the school is closed, either due to inclement weather or due to a planned day with no school such as a PD day, as we are unable to access the school on those days. Refer to the list of planned cancelations.
Karate Winter/Spring 2022
Posted in News and Events on December 22nd, 2021 by Stephen DeGrace
For the remainder of the karate year, we will plan to continue to train with our sister Tsuruoka Karate-Do dojo, the Island Karate Club in Stratford, with some limited classes in our own dojo as facility access permits. We will not be taking new registrations until Sept. 2022. This change will address the uncertainty around access to the facility and public health orders that exists right now. We will let you know if anything changes. Sincere thanks to all our members for your support!
Latest Gallery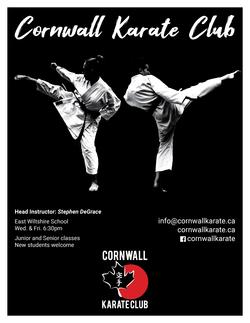 December 24th, 2018 by Stephen DeGrace
We are proud to unveil our new logo and poster created by graphic designer Jake Mutch of the Island Karate Club!